"She is playing the best soccer I have ever seen her play!" – college coach, after watching one of his players near the end of the summer.
"First fitness test (in preseason) was the beep test, and I crushed it! I did better than my last year score by 10 rounds!"
These are encouraging reports from Eagle's Academy players from this past summer – consistent with the way we approach the soccer aspect of the Academy. But they really pale in comparison with the transformational growth that we see taking place in the hearts and lives of so many of our Chicago Eagles Academy players!
The Chicago Eagles Summer Academy (CESA) completed its 12th season in 2015. Designed as a two-month sports ministry experience for collegiate soccer players, CESA15 challenged players to raise their level, and pursue excellence – both in their sport and in their relationship with Christ! It also gave them a taste of what authentic community is like, and of the impact they can have when they seek to glorify God through the game of soccer.
Over 30 men and women from 19 different colleges and universities participated this past summer in CESA15. During that time, they spent two weeks in Brazil (playing matches, running clinics for kids, and working with churches), coached at ten soccer camps with close to 1,000 campers, trained and played in the Illinois State U23 league (with only one loss total for both teams), worked with under-resourced youth, served local churches in the Chicago area, met in small groups and studied our sports ministry curriculum – and seasoned everything with tons of laughter and fun!  Two of our players also chose to be baptized this summer! And still another finally came to the point, during our time in Brazil, of giving her heart and life to Jesus Christ!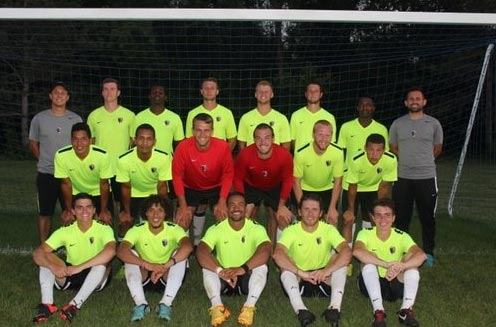 Several of our players, while serving as coaches at our Eagles soccer camps, had the chance to lead some of their campers to Christ! Twelve of our players participated in our student leadership program, leading the camps and various other events. Most of those student leaders, along with a few other players, have returned to serve as captains of their collegiate teams.
During the Academy, we also had the opportunity to train several players and coaches from various countries – Brazil, Turkey, Cuba, Barbados, the Dominican Republic, and Thailand.
Our hope and prayer is that as all of these players and coaches return to their colleges and countries, their love for Christ will continue to grow, and that God's Kingdom will continue to grow through these influence of these young men and women!