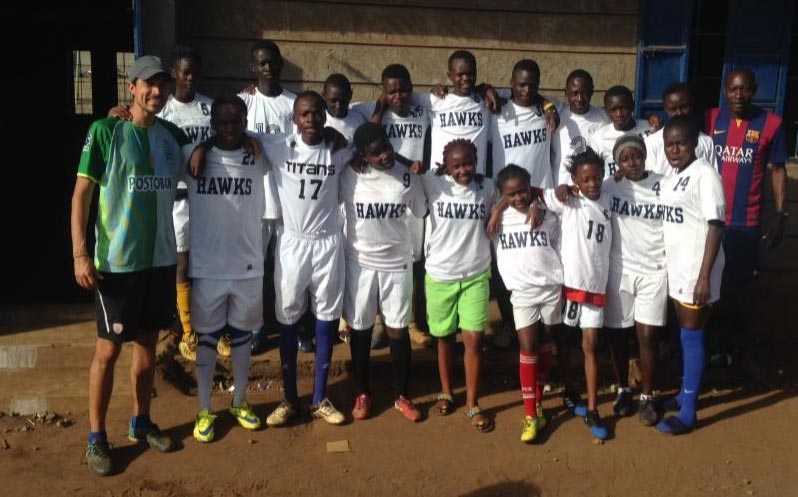 Mitch Sanford, Daniel Miele and Michael Coleman spent 10 days this past December encouraging and training ministry partners in the countries of Tanzania and Kenya.
Back in 2006, a relationship was formed with a young man named Lemmy Dalano who lived in Kenya.  MAI staff introduced Lemmy to sports friends international and for the past several years, Lemmy has been serving the lord through sports friends in the country of Kenya, training coaches and pastors to use the sport of soccer to share the good news of Jesus Christ.  Mitch, Daniel and Michael met up with Lemmy and traveled to Tanzania, where sports friends ministry has spread.  They visited the town of Bunda and surrounding villages on Lake Victoria, encouraging and training pastors and coaches, as well as running training sessions for the local village teams. Through the vision and work of local pastor Philip, multiple churches have been planted there using the game of soccer.
After visiting Tanzania, they traveled to Kenya where they met up with their friend Coach Sanchez in the slum of Kariobangi.  Coach Sanchez came through sports friends training and now runs a soccer academy right outside of his church.  Despite terrible field conditions, players show up every day to play soccer and to grow in their faith.  Mitch, Daniel and Michael had the privilege of sharing with players, running training sessions and even had an opportunity to preach at the local church.
Over the past decade, the Lord has gracious grown the ministry in Kenya and Tanzania.  Close to 1000 coaches have been trained through MAIi's and sports friends sport ministry training program resulting in thousands of youth who have been reached with the gospel through the game of soccer.